Our flagship products
Regular price
Sale price
$66.00 USD
Unit price
per
Regular price
Sale price
$43.00 USD
Unit price
per
Discover our renowned Shibori scarf - much more than just a scarf.
The Shibori scarf has been the favored choice of our clientele for over 10 years. It now enjoys a well-established reputation.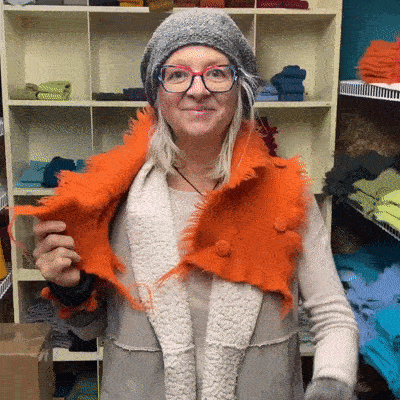 You can even wear it indoors!
Its 3-point attachment system allows you to embrace three styles in one. Position n°1 is perfect for allowing the neck to breathe. The scarf wears very well in this manner, even indoors. Feel free to wear it, for instance, over a dress.
Shop now
Perfect for the cool temperatures of autumn.
Position n°2 is ideal as soon as the outdoor temperature becomes a bit colder. I like wearing it this way on autumn evenings, near a fire, for example.
Shop now
Ready to face the harsh winter cold.
Anticipating a drop in temperature? You can rely on your Shibori scarf in position n°3 to bundle up. Enjoy a scarf that will keep you warm while allowing your skin to breathe, thanks to its 100% pure wool.
Shop now
More than 20 colors to choose from!
We love colors, we love originality. That's why our flagship products are available in over 20 vibrant shades.. We assure you'll discover the perfect hue to complement your outfit.
Discover our vibrant colors
Our unique creations
At Folilaine, we not only have our flagship products but also unique pieces. Each piece is a one-of-a-kind creation handmade by France. She allows her imagination and the inspiration of the moment to craft works that are both bold and elegant.
Who is behind Folilaine ?
Hello, my name is France Arsenault, the creator and designer behind Folilaine. My love for wool and craftsmanship began nearly 25 years ago. Among all materials, it's wool that truly captivated me. I've always been fascinated by its multiple properties: warmth, softness, lightness, and breathability. These are characteristics I sought for my autumn and winter clothing, as my skin breathes in woolen garments! However, I couldn't find elegant and vibrant woolen clothing. So, I began creating my own garments, and soon, people around me wanted them too. That's when Folilaine was born! Today, Folilaine is still Bruno and me. We remain just as passionate about wool 25 years later, and above all, we aim to bring the perfect blend of style, elegance, and practicality to our creations.
Elegant🌟

The nobility of wool combined with our know-how and you will find elegance, Folilaine.

Unique💫

Each creation at Folilaine is first made with the heart before being made by hand.

Wide variety✨

With our wide variety of colors, you will always be able to find the perfect match for your outfit.
Testimonials
I was so very happy to find France online as I had purchased a scarf from her at the One of a kind show in Toronto and it is my favorite. Her artistic flair and superior workmanship make her an instant success. Great communication and super fast delivery. Thanks

Shibori - Jeans

Beautiful work! Just a lovely shop and wonderful artist!!!! And also thank you for the fast shipping. I loooove Folilaine ❤️

Shibori - Roseline

You will fall in love with France's pure wool neck and wrist warmers. Her avant-garde Shibori scarf features several buttonholes that allow you to wear the piece tight to your neck or loose around your shoulders. The complementary wrist warmers keep your hands cozy and fingers free.

Shibori - Avoine/Oat